Advantages Of Window Shutters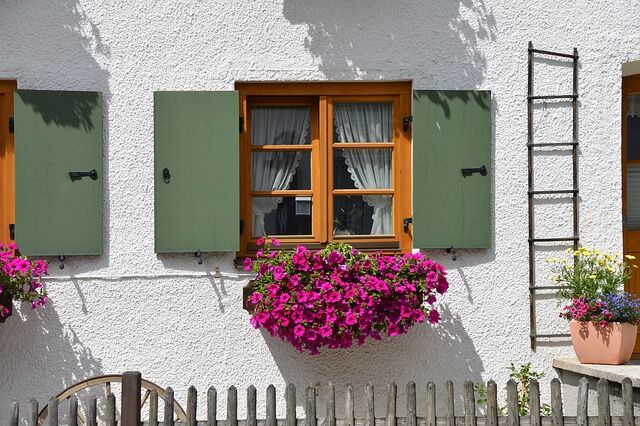 A window shutter is a type of window treatment/covering that helps prevent heat and/or light from entering or escaping the room. Window shutters are thus an excellent addition to the house and are available in several different types, as seen below.
Types of window shutters
i. California shutters: These types of shutters are mainly made of wood with characteristically thinner louvres than other types.
ii. Plantation shutters: Plantation shutters are basically made of wood but painted white. They were commonly used in plantation manors, though they are quite common in the southern states. Plantation shutters have slightly wider slats when compared to plantation shutters.
iii. Vinyl shutters: These are the most affordable and commonly used/preferred shutters today. Made of vinyl slats, these shutters come in various textures and colours, giving you options to choose from.
iv. Faux/composite wood shutters: As the name suggests, these shutters are made from artificial woods that look almost the same as wooden shutters. They, however, aren't as durable as wood shutters.
v. Café shutters: Café shutters are designed to cover the lower section of a window, mostly used for privacy and to control sunlight/air exposure.
vi. Exterior shutters: These are mainly installed outside the window. Exterior shutters are made of aluminium or wood for improved durability and privacy.
Advantages Of Window Shutters
Protect Your Windows
Many homeowners invest in window shutters to help protect their windows from weather and external elements and increase privacy. Shutters make it possible to control the amount of sunlight passing through, protecting your interiors from prolonged/direct exposure to sunlight. Some slats may have UV protection for improved performance and durability.
Shutters can withstand even the most extreme weather. Your windows will thus be sheltered from rain, storms, and flying debris.
It is also worth noting that window shutters provide an extra layer of security to your home. The additional barrier created, makes it harder for burglars or smash-and-grab thieves to break in. This is also because they cannot see into the house clearly, hence unable to tell what valuables there are. As a side point, I would highly recommend seeing shade sails.
Insulation
When fully closed, window shutters provide an additional layer of insulation against heat and sound. Window shutters alone can help boost your home's energy efficiency too. Unlike curtains, shutters can be used in almost any room, especially kitchens and bathrooms where curtains would be messy. Shutters would also be an excellent investment, especially if you have a noisy neighbour or live in a noisy neighborhood.
Privacy Shutters offer a level of versatility that other window treatments seem to struggle with. For instance, the louvers can be tilted to allow enough natural light in but block direct view of inside the house. Angling the slats downwards also helps improve air circulation without compromising privacy. The level of privacy provided, however, depends on the type of shutter, louver material, and width. Wide louvers can be tilted to allow maximum light while still offering the desired privacy. It is thus advisable to choose your window shutters carefully, especially when looking for improved privacy and functionality.
Improved Curb Appeal
California and plantation shutters are an excellent pick when looking to boost your home's rustic overall charm and appeal. Modern shutters, too, can help enhance your home's aesthetics even further. Whether looking to create a more modern or rustic appeal on your home, there are plenty of shutter options to choose from. Installing window shutters will not only give your home a fresh look and feel but can boost its resale value as well.
They Are Customisable
Despite the many different types of window shutters, you can still make a custom order for your specific windows and design. Custom-made window shutters, however, mean taking professional measurements of your window and communicating your preferred design on the same. This option is quite appealing for homeowners with custom window designs, unconventional window sizes, and irregularly shaped windows.